According to the relevant rules of the newer stages of reopening, it is only possible to enter the Budapest Zoo and Botanical Garden with an immunity certificate. Unfortunately, not everyone is able to accept that fact.
The elephant statue adorning the entrance of the Budapest Zoo was defaced with red paint probably on Saturday morning. Péter Urfi of 444.hu was just passing by when police officers were at the scene.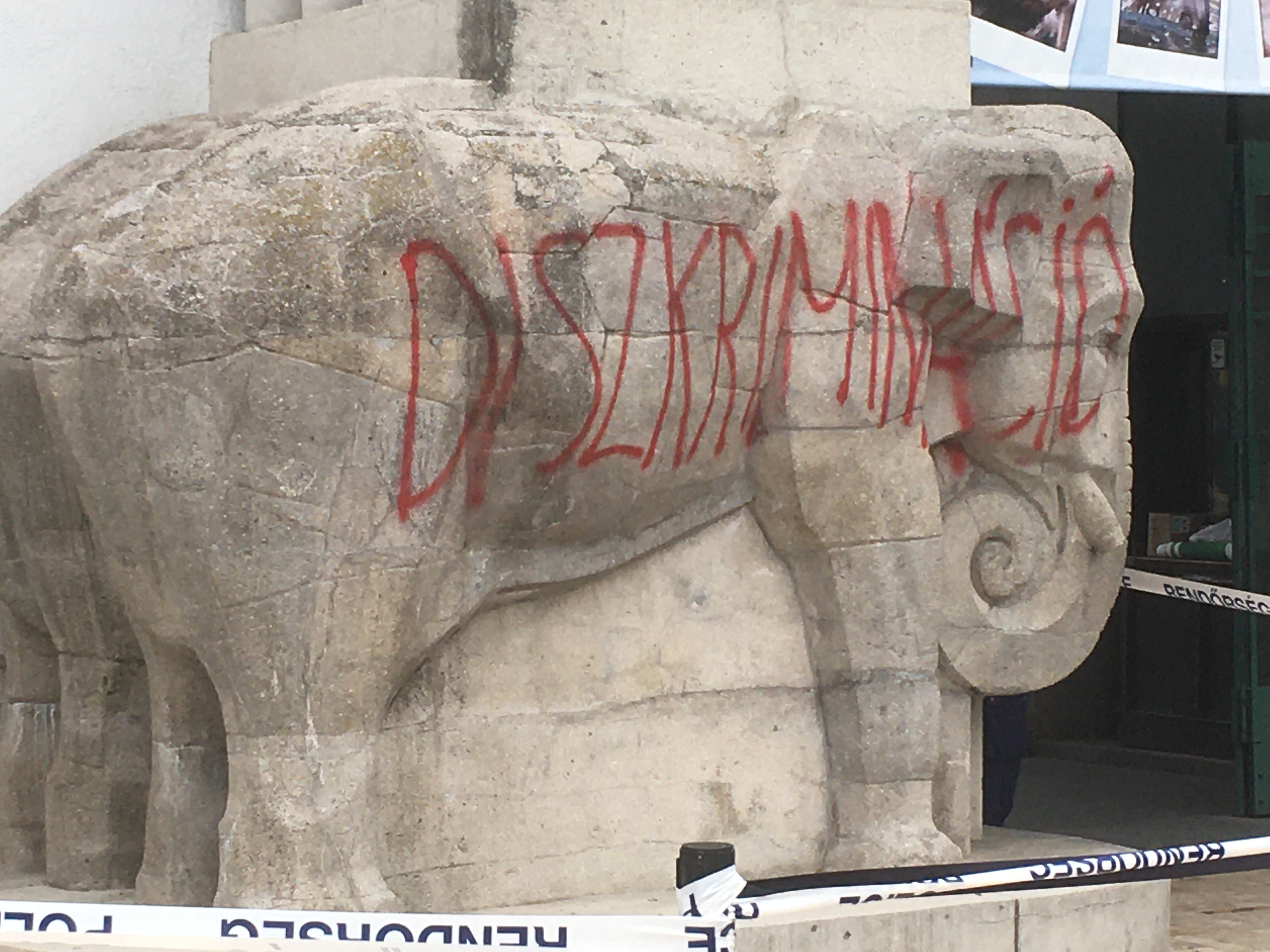 The zoo has been open since May 1 and can be visited with an immunity certificate only. Right on the first day, there was a hassle at the entrance.
A month ago, a man and a woman objected to the requirement of the plastic card proving protection at the gates. However, the staff of the zoo did not allow them to enter under the rules currently in force, and later, the police had to be summoned to the unrest.
At the time, an argument similar to the one now scribbled on the elephant was voiced. As you can see from the borsonline.hu video, according to a visibly upset man,
"It is discriminatory in a negative way"
that only cardholders are admitted.
444.hu sent questions to the Zoo- and the BRFK press office. The Zoo's response has since been published. Spokesperson Zoltán Hanga wrote:
"In connection with the case, I can provide the information that at dawn today, an unknown perpetrator inscribed 'discrimination' in red paint on one of the statue elephants at the well-known main entrance of the Zoo. Of course, we notified the police, who have been at the scene ever since, and we looked at footage from surveillance cameras that also show the perpetrator."
The main entrance of the zoo is a listed building, built in 1912, according to the plans of Kornél Neuschloss. At the scene, one can find that visitors to the Zoo are clearly outraged by what had happened.
BRFK responded to 444.hu's question in the following way:
"In connection with your request, we would like to inform you that the Budapest Police Headquarters received a notification on May 29, 2021, at 8:36 a.m., that in District XIV of Budapest, at Állatkerti körút 6-12, the elephant statue on the left side of the main entrance of the Budapest Zoo and Botanical Garden was sprayed with paint. In connection with the case, the Budapest District XIV Police Headquarters ordered an investigation of an unknown perpetrator on the suspicion of vandalising a monument, and they conducted an on-site investigation. There have been no atrocities in this regard in recent weeks. "
Read alsoThe G7 might weaponize taxes in Hungary
Source: 444.hu; borsonline.hu